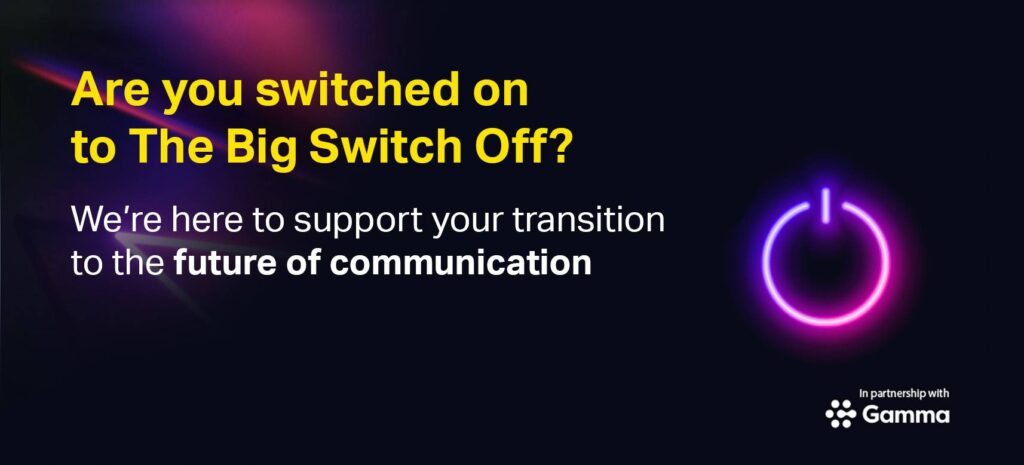 What is the PSTN Switch Off?
We're all familiar with the copper wire telephone network: in use since 1876, it's kept business communications' going for years. But that's all about to change!!!!
In 2025, the Public Switched Telephone Network (PSTN) is being switched off by BT Openreach, which means everyone, including businesses, currently using PSTN-based services will need to move to another service before then.
The alternative? Voice over Internet Protocol (VoIP), a solution that transmits voice calls and data using an internet connection.
This is a major step towards the United Kingdom's mass IP-network migration, with VoIP core networks set to replace all the legacy PSTN services in just a few years' time.
In parallel to switching off the PSTN network, Openreach are rolling out their fibre broadband network.
To expedite the transition between networks, Openreach have identified and published a list of Priority Exchanges throughout the British Isles where they will be focusing their efforts to get FTTP (Fibre-to-the-Premises) rolled out. When FTTP is available to more than 75% of properties within the catchment of an exchange then everyone (business and consumer) will need to move to an IP service!
When is the PSTN Switch off Happening?
BT Openreach has announced it intends to switch off the traditional, copper-based telephone network in 2025. This is commonly referred to as the PSTN Switch Off.  While 2025 may seem a while away, from December 2023 you won't be able to purchase any new ISDN or PSTN-based services, with many locations affected by a stop sell much sooner than that.
Why should I care?
The PSTN Switch Off will affect all businesses currently operating using PSTN and ISDN services. If you fall into this category, you will need to move to the new network to keep your phone and your number working.
The All IP network delivers voice calls using the same infrastructure as data and using VoIP (Voice over Internet Protocol) technology.
What is VoIP?
Simply put, VoIP uses a company's existing internet connection to transmit voice calls. When it was first introduced, this solution seemed like a dangerous choice, as it completely relies on the quality of the internet connection to guarantee stable calls.
Nowadays, the speed of most broadband is fast enough to negate any problems around call quality. VoIP telephony is a simpler option than it sounds, requiring a lot less hardware than legacy systems.
It is delivered by Over the top (OTT) applications to which new features are added regularly, it gives your business more flexibility and it can be used on a variety of devices – from desk phones to mobiles, tablets, and computers.