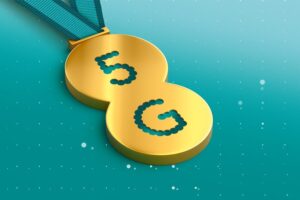 5G is here and we cannot wait for you to experience all the benefits it brings, but what are the benefits, here's our top three reasons to get excited!!
A better connection in busy places
If you have ever struggled to get online while at a music festival or in a stadium, even though you appear to have a full signal, you'll know how frustrating it is when your content eventually uploads much later or sometimes not at all. This happens when too many people try to connect in one place at the same time – networks reach their limit, and everything slows down.
With 5G, our network will give you a more reliable connection in the busiest of places and at the busiest times. That is because 5G has a greater bandwidth than 4G and can support more devices. So you can stream sports in a stadium, download videos at a busy train station and share photos while partying at a music festival.
Faster speeds, better quality
5G gives you faster mobile speeds than ever before, making everyday tasks on your Smartphone feel super quick.
You will be able to download films onto your phone in seconds instead of minutes, so if you are stuck for something to watch on the way home from work you can quickly fill up your phone with the latest blockbusters and box sets. How about when you are trying to download that important document in time for a business meeting or retrieve that email to forward in double quick time!
You'll be able to stream in the highest resolutions for an overall better experience.
Instant Connection
5G gives you an almost instant internet connection. So whether you want to play a video, load a document or control smart devices in your home, everything feels super quick with 5G.
The faster speeds at which our 5G network responds to your commands is really important for the gamers, because it responds even more quickly to your button commands. What's more, 5G opens up exciting possibilities for the new augmented and virtual reality experiences, which could transform the way you play games on the move.